NonprofitClearingCenter.com
The Nonprofit Clearing Center is a very unique web site that allows nonprofit organizations the opportunity to purchase goods for their own use, or for their fundraising events, at below wholesale cost, such as golf shirts used for their tournaments or as uniforms.
It also provides a method for organizations to raise additional funds without sponsoring extra events, AND without any expense on your part!
There are two different programs.
Check out the web site for more information.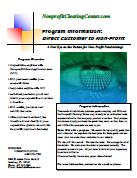 For non-profits, either purchase items for your organization, or have your supporters purchase items they want and give you the proceeds!
Click on the icon at right for more information.